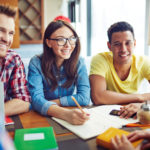 Student Ambassadors
STUDENT AMBASSADOR PROGRAM
The TSI Student Ambassadors, ranging from 5th graders to 12th graders, have the unique opportunity to collaborate with other students across the country to discuss the latest in social media, current events, and trends impacting students. Together, our Student Ambassadors empower more students around the country to use social media and technology for good.
What You Get Out Of It:
Boost leadership skills and collaborate directly with other student leaders across the country
Inspire others by driving the conversation around today's most relevant issues.
Secure real-world experience with a rapidly growing startup that is making a positive impact on the world.
Influence lessons and discussion prompts used across the country to help students use social media & tech in positive ways.
Build your resume and list the position and The Social Institute on your resume and LinkedIn profile
Earn community service hours that you can apply to school requirements, along with

a possible letter of recommendation from The Social Institute team for excellent commitment to the program.
You're a great fit for this program if you are…
A rising or current 5th-12th grade student.

A strong teammate with an appreciation for high character and mental health. 

Vocal, candid, and willing to discuss student trends and relevant current events.

Interested in media production, including producing videos and/or graphics to be featured within our curriculum and on social media.
Logistics: 
Time commitment of 2-3 hours per month.

Bi-weekly meetings with other Student Ambassadors and members of The Social Institute team

Participate in meetings to provide insights into tech and social media trends and current events impacting students

Volunteer position, virtually communicating with The Social Institute team through Google Classroom and Zoom meetings

Fall, Spring, and Summer opportunities
Apply today: